New Cat Patients at TLC for Pets in Reisterstown
Let's face it... most cats do not love coming to the vet. But all cats do need to come for regular check ups. Your cat can hide many of its medical problems well, so vets have to try to find those problems before your cat shows symptoms.
Do you know whether your cat has a hidden urinary problem, heart disease, or arthritis? We can help you with thorough exams and then recommend appropriate tests.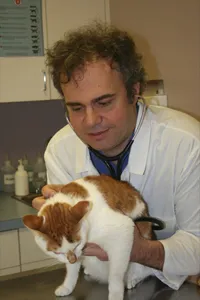 Of course we can only perform a thorough exam when your cat is relaxed. So here's how we make for a happy kitty patient:
Get your cat into the exam room quickly
Talk to you about your cat while your cat is still in the carrier and getting used to the room
Perform exams, treatments and tests right in front of you
Limit any restraint
If you have a kitten willing to play, we try to make the visit entertaining!
If your cat does have to stay with us overnight, we will keep the hospitalization as short as appropriate. If your cat boards with us, we will house your cat in his/her own separate, comfortable area. If your cat needs a procedure, we will pay attention to your cat's needs. We enjoy helping cats!
Call TLC for Pets in Reisterstown for an appointment! (410) 833-1717